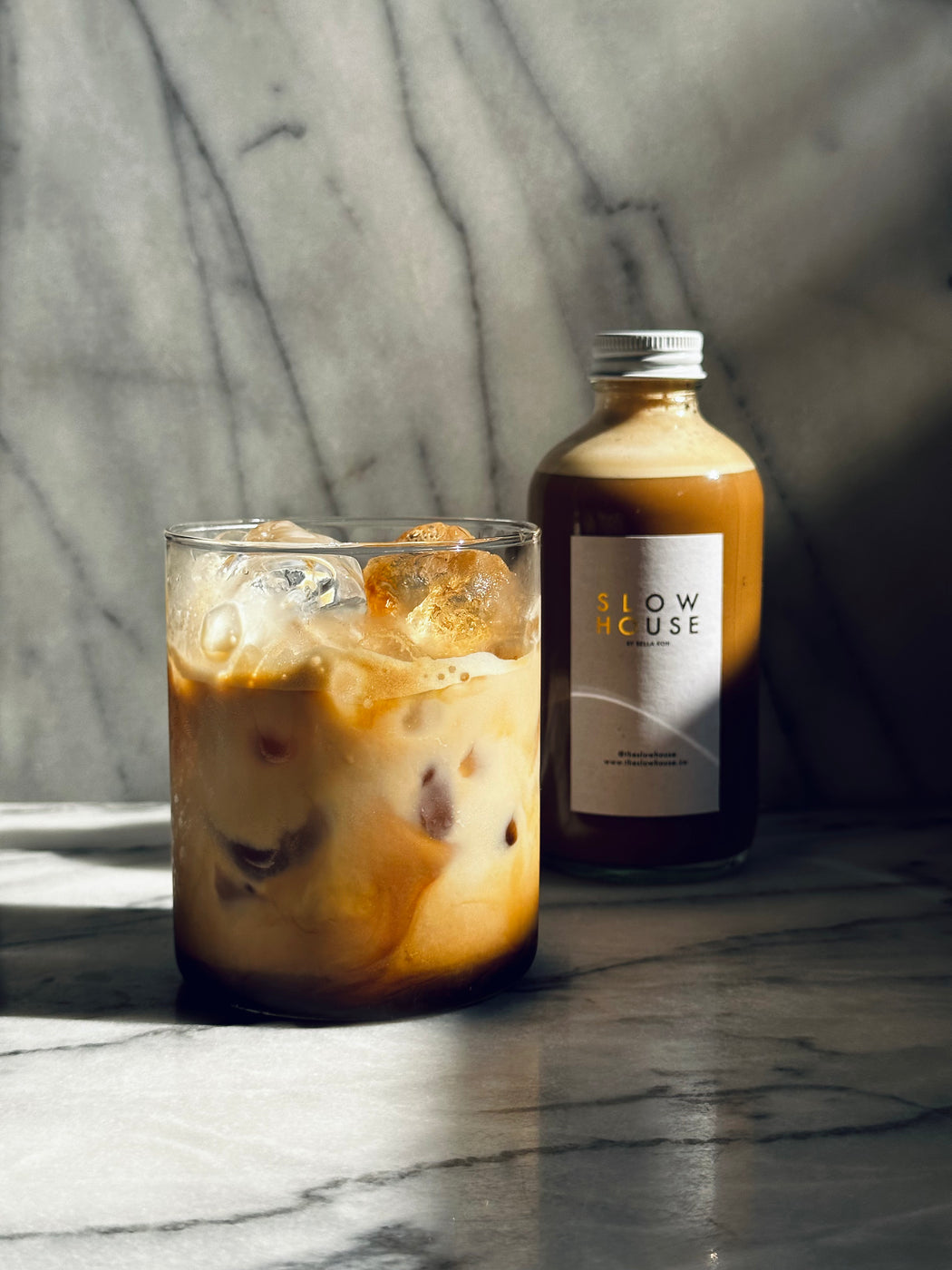 Vegan Ice Soy Latte I 250ml
S L O W H O U S E's famous ice lattes are finally here!
Requested by our guests at every slow afternoon sesh and dinner gatherings, and highly raved by dear friends. This is one drink you need to have a taste of.
Balanced, healthy and the ideal perk-me-up for stressful work or parent days. This is a coffee recipe that @Catslavery has perfected with mindful ingredients.
She loves her lattes with, "Less milk, more ice." Technically, we would love to call this an Ice Piccolo that doesn't exist. 
Using only plant-based milks, ristrettos and unrefined sugars, you won't really get enough of this revitalising ice cold coffee.


DESCRIPTION

Delivered chilled in a 250ml glass bottle.

A 250ml portion serves two glasses of ice lattes.

One bottle contains 4 shots of espresso
INGREDIENTS
Ristretto, unrefined sugars, non-gmo soy milk.


EXPIRY
3 days in the fridge

DIRECTIONS

Prepare a glass filled completely with crushed ice to the brim.

Pour contents completely into glass.

Slowly sip and enjoy a slow afternoon paired with our organic brownies.


SUGGESTIONS
VEGAN COFFEE SMOOTHIE
Pour coffee into a blender, add crushed ice, vegan ice cream and a dash of mushroom powder for an instant power smoothie!

VEGAN COFFEE ICE CREAM
Pour contents into popsicle maker and freeze for overnight.
Best enjoyed during hot summer days!


S L O W H O U S E chooses organic, unrefined, sustainable, ethical and
planet-friendly whenever we can. 
-
Explore our heart warming drinks on your own or serve them at your next get-together!

We urge you to savour them thoughtfully and mindfully.